Kuala Lumpur, 7 March 2023 –Malaysians were once again reminded of the stark reality that changing climate and weather pattern means severe flooding no longer only occurs in the monsoon season months of November and December. This can be seen from the recent flood in southern Johor where unabated torrential rain had displaced 40,000 people with fatalities reported. Based on media reports, the Meteorological Department had warned of more rain in the coming days, mostly in the southern states of the country1.
This is despite the fact that the people and businesses have barely fully recovered from the overall flood losses of RM6.1 billion that affected several states in late December 2021 and early January 2022 as highlighted in the Special Report on Impact of Floods in Malaysia 2021 issued by the Department of Statistics Malaysia2
All PIAM members stand ready to render assistance to their policyholders to minimize the financial impact of the recent flooding through expedited claims process and special considerations on a case-to-case basis. Policyholders are advised to contact their intermediaries or insurers for further advice as the scope of cover, terms and conditions including relief measures accorded by one insurer may differ with another.
In the unfortunate incident of suffering a flood loss, kindly refer to the checklist below to ensure that your insurer could assist to provide for an expedited claims process: –
Step 1:   Check to ensure that your policy is extended to cover flood.
Step 2:   Notify your intermediary or insurer with details of the loss.
Step 3:   Provide complete information including all relevant supporting documentation to your insurer including photograph(s) if any.
Step 4:   Depending on the severity of loss, your insurer may appoint an independent loss adjuster to assist you in filing your claim.
Although consumer awareness of the risks to lives and property had increased by improvement in flood motor insurance take up rate from 5% for full year 2021 to 12% in 1H 2022, there is still much to be done to enhance financial resiliency especially among the B40.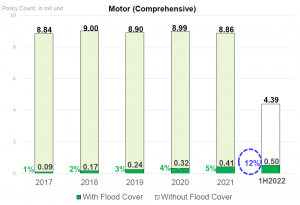 Source: Data from ISM @ 17/10/2022. Figures are in UW Year basis and data is for General Insurance and MMIP only. ​
The flood take-up rate for fire insurance had also increased marginally to 31% in 1H 2022 as compared to 30% for full year 2021.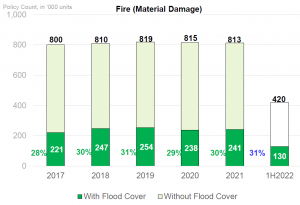 Source: Data from ISM @ 17/10/2022. Figures are in UW Year basis and the ​data is for General Insurance companies.​
Flood cover is available and affordable
Malaysians are reminded that flood cover is widely available as all PIAM member companies provide flood cover under their comprehensive motor and fire policies with additional premium subject to respective underwriting discretions.
Contrary to common perception, flood coverage is affordable as the additional motor premium for flood cover is estimated to range from RM0.08 to RM1.74 per day.3
As for fire insurance, the additional premium for flood cover (for risks below RM10 million) is only 0.086% of the sum insured, a small price to pay given the exposure to flood that had caused millions of losses to properties every year. For a sum insured of RM200,000, this is translated into an additional premium of 47 cents per day or RM14 per month. As for tariff houseowner and householder policies, flood cover is included as part of standard coverage.
Policyholders are therefore encouraged to review their motor and fire policies to ensure that they are adequately protected from flood losses and contact their intermediaries or insurers who stand ready to provide them with the necessary assistance.
Rozanna L., writer for Rueters, 4th March 2023, Flooding in southern Malaysia forces 40,000 people to flee homes, source: https://www.reuters.com/world/asia-pacific/flooding-southern-malaysia-forces-40000-people-flee-homes-2023-03-042
Department of Statistics Malaysia, 28th January 2022, Special Report on Impact of Floods in Malaysia 2021, source: https://www.dosm.gov.my/v1/index.php?r=column/cthemeByCat&cat=496&bul_id=ZlkxS0JnNThiRHk0ZllZajdyVm44UT09&menu_id=WjJGK0Z5bTk1ZElVT09yUW1tRG41Zz09
The range above is for general reference only and cannot be taken to be the absolute rates provided across the market, updated by 21 PIAM member companies up to 16 December 2022.
~ END ~
About General Insurance Association of Malaysia (PIAM)
PIAM is the national trade association of all licensed direct and reinsurance companies for general insurance in Malaysia. Currently, PIAM has 25 member companies. More information on PIAM can be obtained from its website: www.piam.org.my.
Media Relations Contact:
Ms. Alea Adzhar 
Senior Executive, Corporate Communications & Public Relations, PIAM
Tel :  +603-2274 7399
Fax : +603-2274 5910
E-mail : corpcomms@piam.org.my