Kuala Lumpur, 27 December 2022 – The Special Report on Impact of Floods in Malaysia 2021 issued by the Department of Statistics Malaysia [1] reported overall losses of RM6.1 billion incurred by the floods that affected several Malaysian states in late December 2021 and early January 2022. Flash floods in Malaysia over the last few months have caused much damage to property and losses to people nationwide. With the year-end monsoon season picking up its pace in December this year, more floods are inevitable.
Owing to a raised consumer awareness of the risks of damage to property and assets that arose from recent flash floods, the Motor (Comprehensive) insurance flood take-up rate has more than doubled in 1H2022 to 12% compared to 5% for the full year 2021.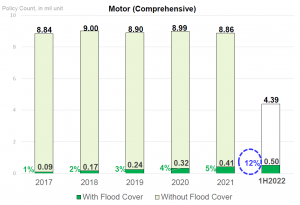 Source: Data from ISM @ 17/10/2022. Figures are in UW Year basis and data is for General Insurance and MMIP only. ​
On the other hand, the Fire (Material Damage) insurance flood take up rate also increased slightly to 31% in 1H2022 as compared to the full year 2021 at 30%.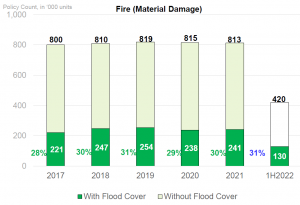 Source: Data from ISM @ 17/10/2022. Figures are in UW Year basis and the ​data is for General Insurance companies.​
Flood coverage is available
All PIAM member companies offer an extension for flood coverage under the comprehensive motor and fire policies with an additional premium and at the individual insurer's underwriting discretion. Consumers are advised to review their policies and check on the coverage offered with their intermediaries who are ready to assist in providing the necessary information as the coverage, terms and conditions may differ between one insurer and another.
Flood cover is affordable
Flood coverage is more affordable than you think. Based on a comparison of three different types of vehicles as per the illustration below, the additional premium for flood extension coverages ranges from 8 sen to RM1.74 per day.2
Proton Saga 1332CC

NCD 45%, Year Make: 2015

Sum Insured : RM19,000

With Special Perils

Toyota Camry 1998CC

NCD 45%, Year Make: 2015

Sum Insured : RM77,000

With Special Perils

Mercedez Benz AvantGarde 1991CC

NCD 45%, Year Make: 2015

Sum Insured : RM127,000

With Special Perils

Premium
approx. RM420 – RM564 p.a.
approx. RM1,262 – RM1,849 p.a.
approx. RM1,980 – RM2,922 p.a.
Flood Cover Premium (add on)
approx. RM28.50 – RM95 p.a.
approx. RM115.50 – RM385 p.a.
approx. RM190.50 – RM635 p.a.
Flood Cover premium (add on p/day)
approx. 8sen – 26sen p/day
approx. 32sen –RM1.05 p/day
approx. 52sen – RM1.74 p/day
The rate for flood extension coverage under a standard tariff policy for risks below RM10million is 0.086% – an affordable sum given the amount of protection provided for losses resulting from floods. For instance, a property with Sum Insured of RM200,000 would incur an additional premium of approximately RM172 per annum (47 cents per day or RM14 per month). Homeowners are encouraged to take up houseowner insurance and also consider including householder (home contents) cover as flood and various other perils (extension cover) are usually included.
Flood risk in Malaysia
According to a report by Malaysian Re on Malaysian Insurance Highlights 2021[3]:
"The Great Malaysian Flood in December illustrates the rising risk that Malaysia faces as the impact from climate change aggravates. Malaysia's population might be more than ever aware of the risk, but still underestimates its severity. Insurance penetration is still low, as only few businesses and people are insured, and often only in regions that are perceived as flood prone."
"Climate change has become a driver to purchase more flood protection with more people realizing that weather patterns have changed, and catastrophes occur more frequently."
In conclusion, in an effort to safeguard assets against flood, natural disasters and fire damage, Malaysians are strongly encouraged to review their existing insurance coverage to ensure that their needs are adequately met.
1 Department of Statistics Malaysia, Release Date: Friday 28, January 2022, https://www.dosm.gov.my/v1/index.php?r=column/cthemeByCat&cat=496&bul_id=ZlkxS0JnNThiRHk0ZllZajdyVm44UT09&menu_id=WjJGK0Z5bTk1ZElVT09yUW1tRG41Zz09
2. Notes:
i. NCD = No Claims Discount
ii. The illustration above is for general reference only and cannot be taken to be absolute rates provided across the market, received from 21 PIAM member companies up to 16 December 2022.
iii. The illustration above demonstrates an estimate/ range you may be expected to pay for Special Peril (which includes flood coverage) extension.
iv. Lower Premium rate does not mean lower special perils rate as it differs from one insurer to another
v. The premium and consequentially the special peril premium will vary according to Sum Insured which is dependent on underwriting criteria
vi. The illustrated premium is based on Gross Premium EXCLUDING applicable tax & stamp duty
vii. Please check with your agents/ brokers/ insurance companies for further details.
3 Malaysian Re – Malaysian Insurance Highlights 2021: https://www.malaysian-re.com.my/api/uploads/MIH_22_final_a6da7cf755.pdf           
About General Insurance Association of Malaysia (PIAM)
PIAM is the national trade association of all licensed direct and reinsurance companies for general insurance in Malaysia. Currently, PIAM has 25 member companies. More information on PIAM can be obtained from its website: www.piam.org.my.
Media Relations Contact:
Ms Christina Geeta Thomas
Head of Corporate Communications, PIAM
Tel                    : +603-2274 7399
Fax                   : +603-2274 5910
E-mail               : christina@piam.org.my
Cik Alea Adzhar
Senior Executive, Corporate Communications, PIAM
Tel                    : +603-2274 7399
Fax                   : +603-2274 5910
E-mail               :  corpcomms@piam.org.my