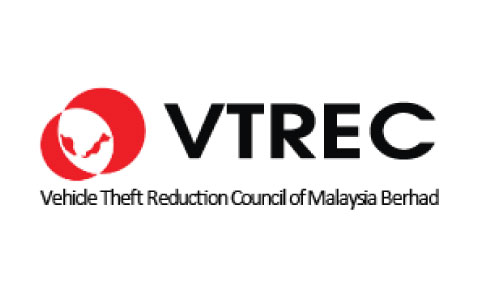 During the Dialogue Session between Bank Negara Malaysia with members of Persatuan Insurans Am Malaysia (PIAM) in 2004, PIAM mooted the idea of forming the Vehicle Theft Reduction Council of Malaysia Berhad (VTREC). VTREC was incorporated as a Company limited by guarantee on 30th April 2007.
MEMBERS OF THE COUNCIL
Our Council consists of stakeholders within the insurance industry in Malaysia and the respective Government and non-Government Agencies.
Persatuan Insurans Am Malaysia (PIAM)

Malaysia Takaful Association (MTA)

Polis DiRaja Malaysia (PDRM)

Bank Negara Malaysia (BNM)

Kementerian Pengangkutan Malaysia (MOT)

Jabatan Pengangkutan Jalan Malaysia (JPJ)

Kastam DiRaja Malaysia (Kastam)

Malaysian Automotive Association (MAA)

Association of Malaysian Loss Adjuster (AMLA)

PUSPAKOM Sdn Bhd (PUSPAKOM)
ROLE
VTREC plays a strong role in fighting crime of vehicle theft, as follows:-
Study weaknesses in the automobile industries.

Facilitate cooperation and implement recommendations between stakeholders.

Develop/advocate proposals for change across government and non-government sectors.

Prepare and implement actions plans and recommendations of the Council.

Coordinate public education campaigns, theft prevention research.

Monitor theft reduction and provide reports to relevant authorities.

As a Forum to recommend suggestion to the relevant ministries resolution achieved by the council to overcome weakness in the automobile industries.
MOTOR ANTI-FRAUD REGISTER (MAFR)
One of the initiatives of VTREC following the National Seminar in 2005,  it conducted in July 2011 was the setting up of the National Register for Stolen/Total Loss and Beyond Economic Repair (BER) Vehicles.  The objective of this Register is to block the fraudulent 'rebirthing' of reported stolen vehicles and vehicles that had been declared Total Loss and ensure compliance of market regulation in the treatment of BER vehicles.  Following discussions with Insurance Services Malaysia Berhad (ISM) the Register had evolved into Motor Anti-Fraud Register.
This online database will provide Insurances Companies and Takaful Operators the facility to 'block' the issuance of motor insurance coverage at point-of-sale for vehicles that had been reported stolen or declared as 'Total Loss'. The Register will also be made available to the public in the event that the public wishes to check the status of a vehicle whether or not it has any record of having been declared 'Total Loss' or reported stolen.
For more info CLICK HERE