Kuala Lumpur, 22 January 2022 – The recent flash flood that hit Malaysia has affected many people nationwide. The flood risk is likely to persist during this monsoon season and it is of huge concern as many Malaysians are still uninsured against flood.
Most Malaysians are uninsured against flood
Only 4% of motor (comprehensive) policies and 30% of fire (material damage) policies have flood covers for 2021 (Year-To Q3 2021), according to statistics by the Insurance Services Malaysia (ISM).
Although it is encouraging to see an increasing trend in motorists choosing to get flood cover from 1% in 2017 to 4% in 2021 (Year-To Q3)1, the number of flood cover under motor (comprehensive) policy is still very low. The purchase of flood cover under fire (material damage) policies has remained flat at circa 30% from 2017 to 2021 (Year-To Q3).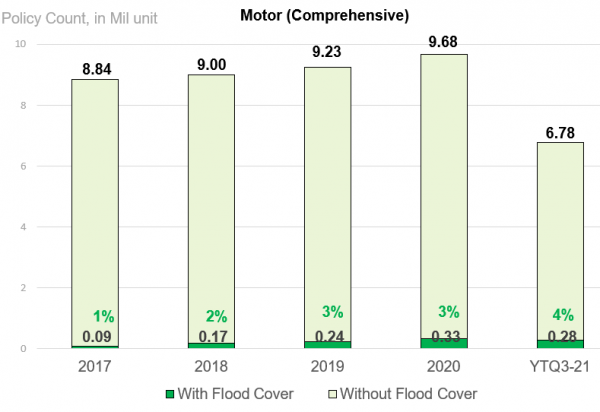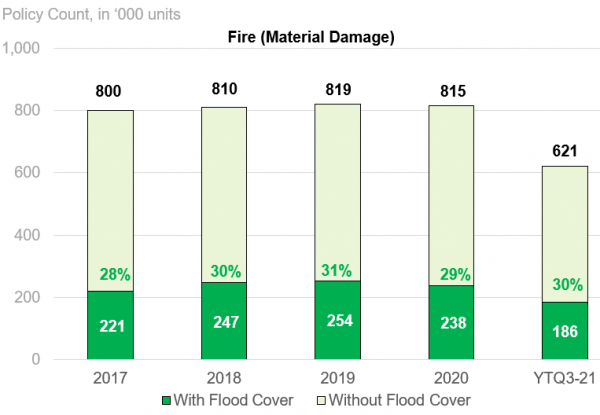 Source: Based on data collected by Insurance Services Malaysia (ISM) dated 5 Jan 2022
Flood coverage is available
All PIAM member companies are currently offering extension of flood coverage under the motor (comprehensive) and fire policies, subject to an additional premium. If you have an existing motor (comprehensive) or fire policy, you may have the option to include flood coverage, subject to an additional premium and at individual insurer's underwriting discretion.
How much does peace of mind cost?
As flood is an optional cover under the standard fire and comprehensive motor policies, consumers are advised to purchase or extend their insurance coverage to include Special Perils extension (which covers flood).
Generally, the premium for an extension of flood cover for motorcycle (comprehensive) non-tariff policy2 is available from as low as RM10 per annum.
As an illustration, based on three different types of car models (on non-tariff motor products), the additional flood cover premiums payable range from approximately 14 sen to RM1.78 per day.3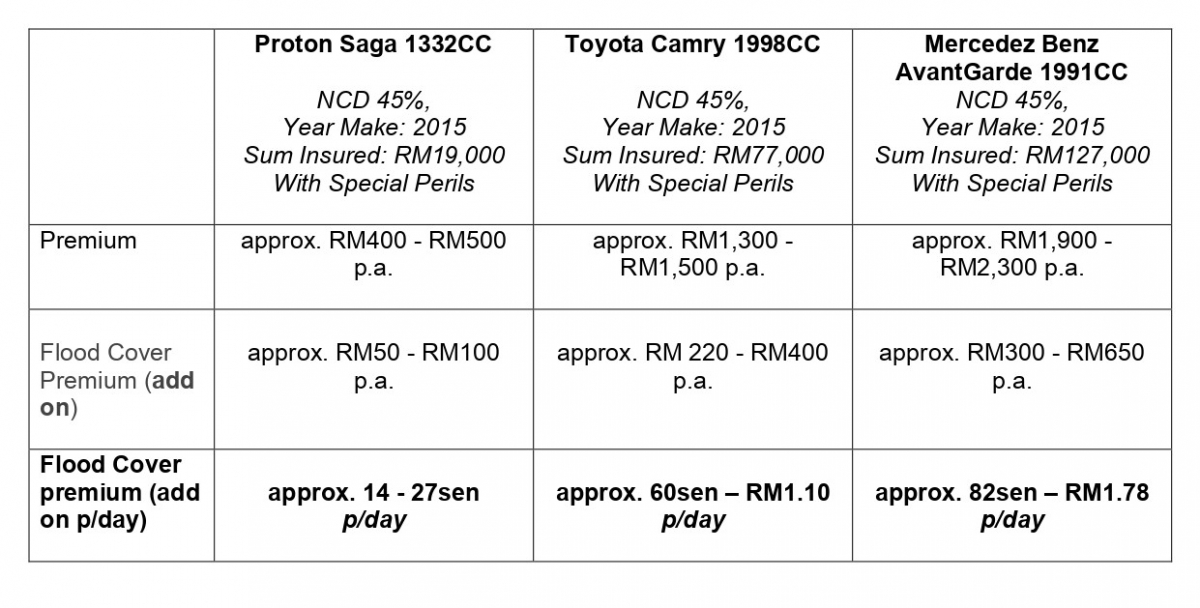 Furthermore, as the graph below shows, over the past 5 years, the motor flood cover average premium has also decreased by 30.6% per annum (2017 to Q3 2021), making it much affordable now.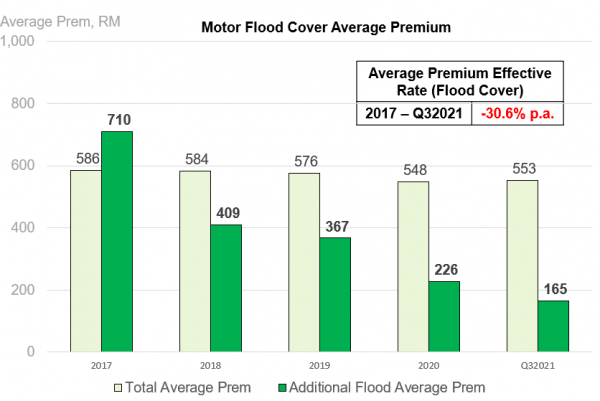 Source: Based on data collected by Insurance Services Malaysia (ISM) dated 5 Jan 2022
Note: The graph excludes motor trade class and sub-motor products
Flood cover is accessible
You are advised to review your policy to check on its scope of coverage. Your agent,  broker or insurance company are more than willing to advise and help you should there be further enquiries regarding insurance coverage against flood or any natural disasters.
Flood risk in Malaysia is a direct impact of Global Climate Crisis
According to Dr. Jessie Guo, Senior Economist, Swiss Re Institute in a recent PIAM webinar for its members on the Climate Emergency, Malaysia is ranked 47th out of 48 countries in the Climate Economic Index4, that is in terms of vulnerability to the climate change. Climate change will have an impact on the Malaysian insurance sector, with an estimated losses from fluvial and coastal floods increasing by 15-65% by 20505.
According to the ASEAN Insurance Pulse 2021 report6:
"Malaysia is one of the most urbanized countries in Southeast Asia, and the increasing concentration of population and assets, together with an equatorial climate and the presence of two monsoon seasons, make flooding the most expensive natural disaster in the country.
Monsoonal floods are among the severe threats, made worse by an increasing concentration of assets and population, climate change and environmental degradation. Although monsoons very rarely impact the country directly, the months between May and November may be affected by heavy winds and storms."
Therefore, as a precautionary measure, Malaysians are advised to ensure that their vehicles, assets and interests are adequately protected for natural calamities like flood which is occurring on more frequent basis due to the effects and fallout from the global climate crisis.
1 According to data collected by Insurance Services Malaysia (ISM) dated 5 Jan 2022.
2 This is an estimate for motorcycles below 599cc.
3 Notes:
i. NCD = No Claims Discount
ii. The illustration above is for general reference only and cannot be taken to be absolute rates provided across the market.
iii. The illustration above demonstrates an estimate/ range you may be expected to pay for Special Peril (which includes flood coverage) extension.
iv. Lower Premium rate does not mean lower special perils rate as it differs from one insurer to another
v. The premium and consequentially the special peril premium will vary according to Sum Insured which is dependent on underwriting criteria
vi. The illustrated premium is based on Gross Premium EXCLUDING applicable tax & stamp duty
vii. Please check with your agents/ brokers/ insurance companies for further details.
5November 2021, PIAM Climate Emergency Webinar, The Economics of Climate Change, Dr. Jessie Guo, Senior Economist, Swiss Re Institute.
6ASEAN Insurance Pulse 2021 – An Annual Market Survey; Exclusive Partner Malaysian Re, prepared by faber Consulting AG, page 26 at https://www.malaysian-re.com.my/our-insights/blog-details/1
#END#
Issued by: PIAM
Media Contact:
PIAM:
Persatuan Insurans Am Malaysia
3rd Floor, Wisma PIAM,
150, Jalan Tun Sambanthan,
50470 Kuala Lumpur.
Tel: +603-2274 7399
Fax: +603-2274 5910
E-mail: corpcomms@piam.org.my
ABOUT PERSATUAN INSURANS AM MALAYSIA (PIAM)
PIAM is the national trade association of licensed direct and reinsurance companies for general insurance in Malaysia. Currently, PIAM has 25 member companies. More information on PIAM can be obtained from its website: www.piam.org.my