Kuala Lumpur, 4 November 2022 – The general insurance industry has registered an increase in gross direct premiums of 10.3% to RM 9.8 billion for the first six months of 2022 compared to the same period last year. However, underwriting profit had contracted by 21.2% to RM 810 million, largely due to losses in Motor and Medical and Health Insurance lines of business.
Motor and Fire remained dominant and PA benefited from PTV programme
In relation to premium, Motor remained the largest line of business at 43% share, followed by Fire (29%) and Miscellaneous (14%). PA premium saw significant growth of +44% year on year largely due to the Perlindungan Tenang Voucher programme launched in conjunction with the Ministry of Finance.
Meanwhile, premium for Fire in 1H2022 increased by 5% to RM 2 billion as compared to 1H2021, with its underwriting profit improving by 23% YoY. The 1H2022 premium for Marine Aviation and Transit (MAT) insurance had also notched up 7% to RM 900 million, while Medical and Health Insurance had contracted 6% to RM 550 million compared to 1H2021.
Industry pays out RM15.2 Million of claims daily
Daily claims payout amount for the general insurance industry was RM15.2 million in 2021 where Motor daily claims payout represented a significant majority of the total at RM12 million per day.
PIAM Flood Relief CSR Fund
Earlier this year, Persatuan Insurans Am Malaysia (PIAM) and its members, in response to the floods affecting at least seven states in the country, set up a PIAM Flood Relief CSR Fund ("CSR Flood Fund") to alleviate the hardship faced by the owners whose vehicles were affected by the flash floods.
The CSR Flood Fund was in the form of a subsidy for mechanical clean-up cost (excluding repair) at any competent workshop over and above existing commitments to expedite payment of flood claims settlement, waiver of certain mandatory claims documentations and simplified claims process that were provided by PIAM general insurance member companies. The CSR Flood Fund was closed on 15 June 2022 with total disbursements of RM1.13 million.
More Consumers are Buying Insurance on Perceived Flood Risks
Owing to raised consumer awareness of the risks of damage to property and assets from flash floods in recent memory, Motor (Comprehensive) flood take-up rate more than doubled in 1H2022 to 12% compared to the take up rate of 5% for full year 2021.
On the other hand, Fire (Material Damage) flood take up rate also increased slightly to 31% in 1H2022 as compared to full year 2021 at 30%.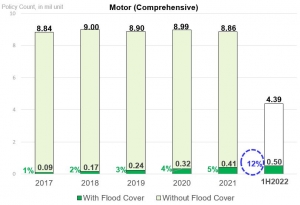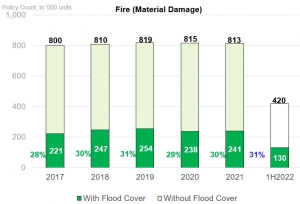 Motor Average Premium trends
Average Premium reduced on Motor Third Party Fire & Theft ("TPFT") and significantly so for Motor Third Party ("TP") in the past 5 years, i.e. -0.1% effective rate per annum and – 4.0% effective rate per annum respectively. The average premium for TP peaked in 2014, and had seen a decreasing trend since then.
Over any comparative time periods observed above, TP saw the sharpest drop in average premiums. The average premium for TP is 31% cheaper in 1H2022 (at RM 103) compared to 10 years ago in 2013 (RM 149) thus benefitting the B40 segment of society.
Although average premiums have increased marginally for Motor Comprehensive policies the past five years at +0.5% effective per annum, they fall far short of keeping pace with inflation rates over the same period.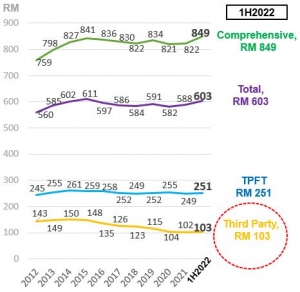 Phased Liberalisation of Motor and Fire Tariffs – Phase 2 (from 1st October 2022)
The industry welcomes the second stage of Phased Liberalisation of Motor and Fire Tariffs announced by Bank Negara Malaysia (effective from 1st October this year) and supports the Bank's commitment on an orderly and gradual transition to market-based pricing, greater product innovation and higher quality of services for the benefit of consumer. As set out in the Bank's Financial Sector Blueprint 2022-2026, further liberalisation is intended
to enable insurance companies to advance reforms that has the potential to positively transform the motor claims ecosystem for many years to come.
PIAM looks forward to the continuation of our productive and collaborative working relationship with the Bank and to contribute to the achievement of the aforementioned objectives.
About General Insurance Association of Malaysia (PIAM)
PIAM is the national trade association of all licensed direct and reinsurance companies for general insurance in Malaysia. Currently, PIAM has 25 member companies. More information on PIAM can be obtained from its website: www.piam.org.my.
Media Relations Contact:
Ms Christina Geeta Thomas
Head of Corporate Communications, PIAM
Tel : +603-2274 7399 ext 201
Fax : +603-2274 5910
E-mail : christina@piam.org.my
Ms. Alea Adzhar
Senior Executive, Corporate Communications,
PIAM
Tel : +603-2274 7399 ext 202
Fax : +603-2274 5910
E-mail : corpcomms@piam.org.m